China planning guideline on biodiversity conservation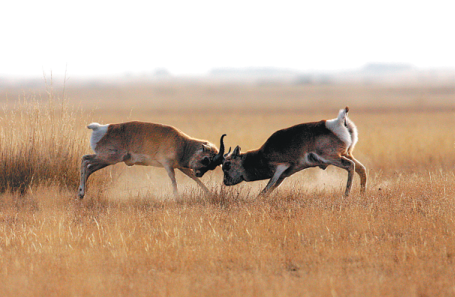 By Hou Liqiang
Two male Przewalski's gazelles fight on grasslands in Gangcha county, Qinghai province. GE YUXIU/FOR CHINA DAILY
China plans to draft a guideline on biodiversity conservation to promote its importance nationwide, Huang Runqiu, minister of Ecology and Environment, said on Wednesday.
"As a responsible major country, China — guided by a conviction that man and nature are a community of life — adheres to a green development path under the principal of ecosystem first," Huang said while addressing a forum held during the annual general meeting of the China Council for International Cooperation on Environment and Development.
Established in 1992, the council is a high-level international advisory body comprising officials and experts from China and abroad who provide policy advice to the Chinese government. Minister Huang is also the executive vice-chairperson of the council.
Huang stressed that the country will endeavor to proactively contribute Chinese wisdom and strength to global biodiversity conservation.
He said China is researching to create the guideline for biodiversity conservation. Aside from promoting the incorporation of the issue as a key task in the nation's 14th Five-Year Plan (2021-25), the guideline will specify the general targets, key tasks and measures.
While accelerating the construction of a protected area system mainly supported by national parks, the country will also make efforts to improve the supervision mechanism for such areas, he said.
Huang said China will also strengthen penalties for damages to the ecosystem and carry out monitoring and assessment for the country's biodiversity conservation progress.
Further, the country will also be more proactively engaged in multilateral dialogue and cooperation on biodiversity conservation and other green development areas, he noted.
Huang emphasized that China will strive to fulfill its mandate as the host country for the 15th meeting of the Conference of the Parties to the Convention on Biological Diversity, which is widely known as COP 15.
Together with the international community, China will strive to seek common ground while shelving and overcoming differences.
"The country will endeavor to make contributions to the joint effort to curb biodiversity loss and promote the harmonious coexistence of man and nature," he said.
Slated to begin in Kunming, capital of Southwest China's Yunnan province, in October, COP 15 is the biggest United Nations biodiversity meeting in a decade. The summit is tasked with elaborating on the post-2020 global biodiversity framework and identifying protection goals through 2030.