Wild elephant herd takes cool break from heat wave
  The roaming elephants rest in Eshan county, Yunnan. [Photo provided to China Daily]
  Can't stand the heat in the summer and you long for a dip in a pool? The herd of 14 wild Asian elephants roaming Yunnan province had the same idea.
  The elephants have been staying in the forested area in Longwu township in the Honghe Hani and Yi autonomous prefecture since June 9, according to the command office in charge of monitoring their migration.
  The herd's movements have been limited because of the heat wave in the area. They chose to travel downhill to feed during the cooler hours of the day, the office said.
  In addition to finding food, the elephants came across a small pond to bathe in and relax together. As seen in aerial video footage provided by the office over the weekend, they took turns going for a dip in the muddy pond, a regular activity of theirs since they arrived in Longwu.
  The pond is relatively small, so a line formed for them to bathe, but the baby elephants were given priority and taken care of by female elephants that constantly sprayed water onto their bodies. The herd also napped after the bath, the footage shows.
  Li Xueyou, a researcher at the Chinese Academy of Sciences' Kunming Institute of Zoology, said that due to the relatively large size of the animals, the evaporation ratio of moisture on their skin is higher, so they need to constantly keep their skin moist. That's why they have to live near water sources, he added.
  "There aren't a lot of hairs on elephant skin, so they're very sensitive to exposure to ultraviolet rays and to insect bites," Li said.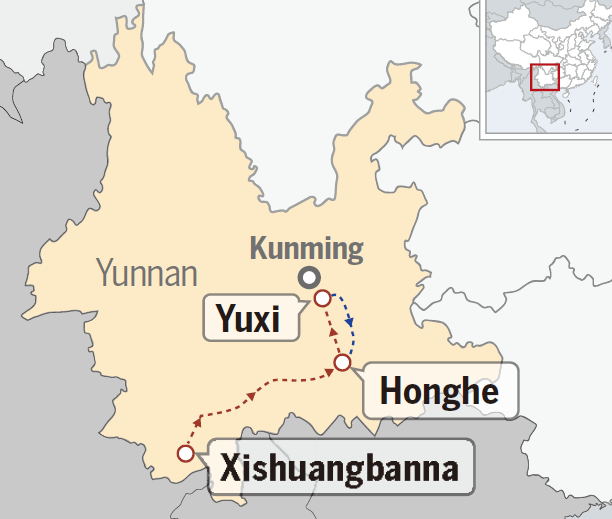 [Photo/China Daily]
  On Tuesday and Wednesday, the Honghe Meteorological Bureau issued warnings for severe high temperatures, with the peak temperature passing 38 C.
  Last year, the herd of wandering wild Asian elephants, which numbered 16 at the time, left its forest habitat in the Xishuangbanna Dai autonomous prefecture and headed north.
  During the trip, an elephant calf was born, and two elephants returned to their habitat in April.
  Another male elephant, which broke away from the herd, was captured and sent back to its forest home in Xishuangbanna on June 7. The rest continue to migrate.
  Li Yingqing in Kunming contributed to this story.